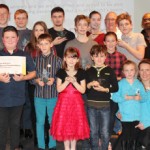 A year of Scouting culminated in a Christmas cracker of a Carol Service last week.
The hut was packed with parents, Explorers, Scouts and Cubs, all singing their hearts out. Meanwhile, our Beavers did themselves proud with a great nativity play.
Looking back on the past 12 months at 1st Broughton Gifford & Holt Scout Group, Kaa says: "Many thanks to all parents and helpers for making 2015 such a great year. The hall is looking the best it's been in years, all the tents are finally renewed and we've got some great memories of camps, expeditions, slapping paint around and cooking chips!