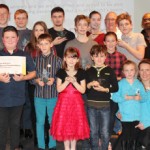 A year of Scouting culminated in a Christmas cracker of a Carol Service last week.
The hut was packed with parents, Explorers, Scouts and Cubs, all singing their hearts out. Meanwhile, our Beavers did themselves proud with a great nativity play.
Looking back on the past 12 months at 1st Broughton Gifford & Holt Scout Group, Kaa says: "Many thanks to all parents and helpers for making 2015 such a great year. The hall is looking the best it's been in years, all the tents are finally renewed and we've got some great memories of camps, expeditions, slapping paint around and cooking chips!
"The leadership team can't do what we do without your support and we've all noticed the rise in parent volunteering and participation this last year or so."
Funding our future
During the year, thanks to help from parents, we raised £875 on bonfire night, which was added to a donation of £650 from the village for those that helped with the set up. We also raised over £100 at the Carol Service and another £100 at the Melksham Christmas Fair.
Outstanding achievements
It has been a year of achievements from the group's young people, too. There were many memorable challenges across the sections including the Beaver Challenge, Cubs' Scrapheap Challenge, Scouts' Shooting and Go Karting and Explorers' Expedition, to name but a few. There were also hundreds of awards and badges earned.
It was a fitting end to the year when George Dallison, one of our Scouts, was honoured in the Melksham Young People's Awards.
A smashing Christmas to all – and here's to a great 2016!