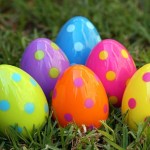 We are holding our traditional Easter Egg Hunt on Saturday 21st March on the Common.
Chil is also challenging us all with her annual Easter anagram quiz. Download the quiz here or pick up a paper copy next time you're at the hut.
For more details, continue reading
Easter Egg Hunt
On Saturday 21st March, the hut opens at 1.30pm and the Easter Egg Hunt gets under way at 2pm. Entry is £1 per person including squash and biscuit. Prizes on offer for those who find most eggs – and there will be more than 100 to be tracked down.
Calling all eggheads!
Complete the quiz questions – or as many of them as you can – and submit your form via one of the leaders with a £1 fee. Winners will be suitably rewarded at the Easter Egg Hunt.
More dates for your diary
Friday 17th April: Family bingo night – read more
Sunday 26th April : St George's Day Parade – details to follow